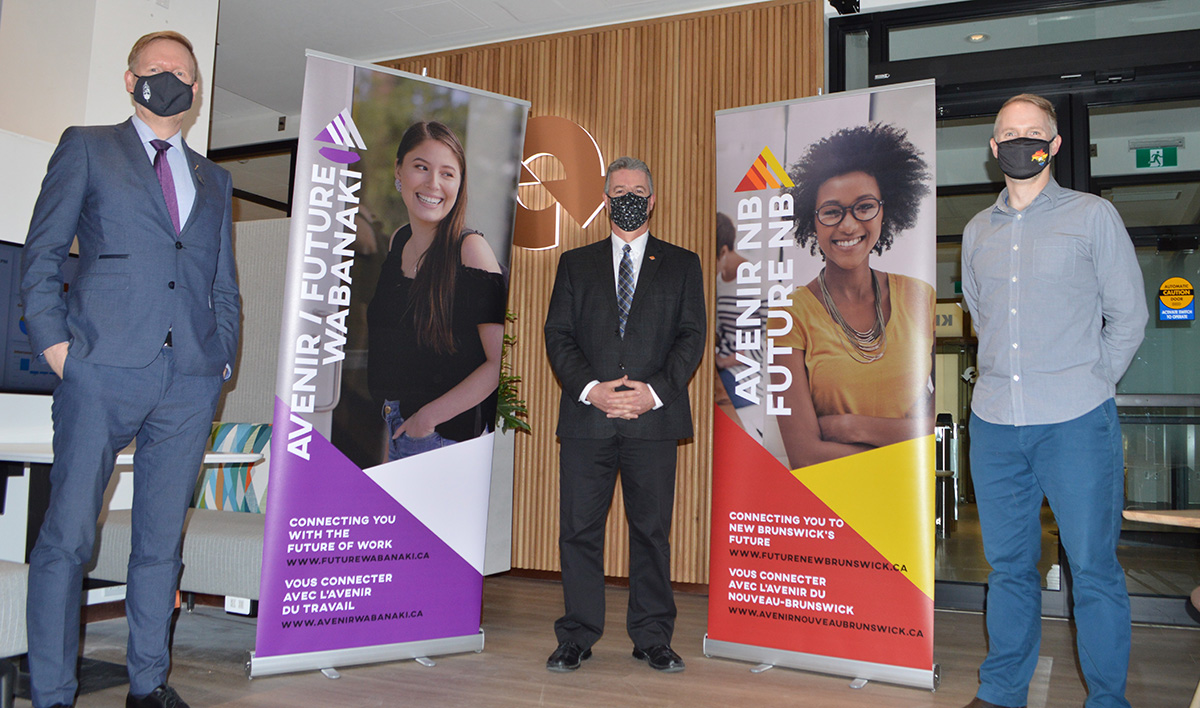 Centre of Excellence for Energy to provide students with hands-on learning, career-related experience
April 12, 2022
Anglophone East – JMA Students Take Flight!
July 27, 2022
New centres of excellence offer students career experience in health and entrepreneurship
The Department of Education and Early Childhood Development is launching two new centres of excellence to give students the opportunity to interact with experts and gain valuable career experience in entrepreneurship, health care and social work.
"I am proud that we continue to support and expand experiential learning opportunities for New Brunswick students," said Education and Early Childhood Development Minister Dominic Cardy. "The centres of excellence allow students to gain insight into key industries. They are given a chance to interact with and learn from experts in their fields, regardless of their location in the province."
Through the centres for health and entrepreneurship, anglophone students across the province will gain access to panel discussions, site visits, webinars, speaker series, mentorship, coaching, career fairs, industry training, and co-op placements. The placements could be virtual but, if circumstances permit, they could be in person.
"Our province continues to experience labour force challenges, which is why these centres of excellence are essential to preparing students for the many opportunities available to them," said Post-Secondary Education, Training and Labour Minister Trevor Holder. "Experiential learning is becoming increasingly important and these centres play a crucial role in the development and engagement of our future workers."
The centre of excellence for health will also focus on improving mental health in schools and providing students with hands-on, interactive learning. In partnership with the school districts, the centre will offer classroom activities for students and lesson plans for teachers covering topics such as mindfulness practices, emotion regulation, self-esteem, healthy relationships, anxiety and stress.
"The Department of Social Development is pleased to participate in this important partnership that will help students explore the many career opportunities available in the care sector," said Social Development Minister Bruce Fitch. "This initiative will engage long-term care service providers, home support agencies, community and government agencies to encourage and invigorate health and social care education within the school system."
The centre of excellence for entrepreneurship will focus upon strengthening the financial literacy and awareness of students along with their business skills. Through the centre, students may get direct coaching on to their entrepreneurial ideas.
"Whether it is problem solving, leadership, or financial literacy, participants will develop skills through this centre that they can undoubtedly use for the rest of their lives," said Arlene Dunn, minister responsible for Opportunities New Brunswick.
The centre of excellence model is part of the Future NB initiative, which aims to allow all students to engage in experiential learning opportunities before graduation, allowing them to build awareness of current and future career paths in the province.
The first centre of excellence, for Energy, was launched in April 2021. More information is available online.