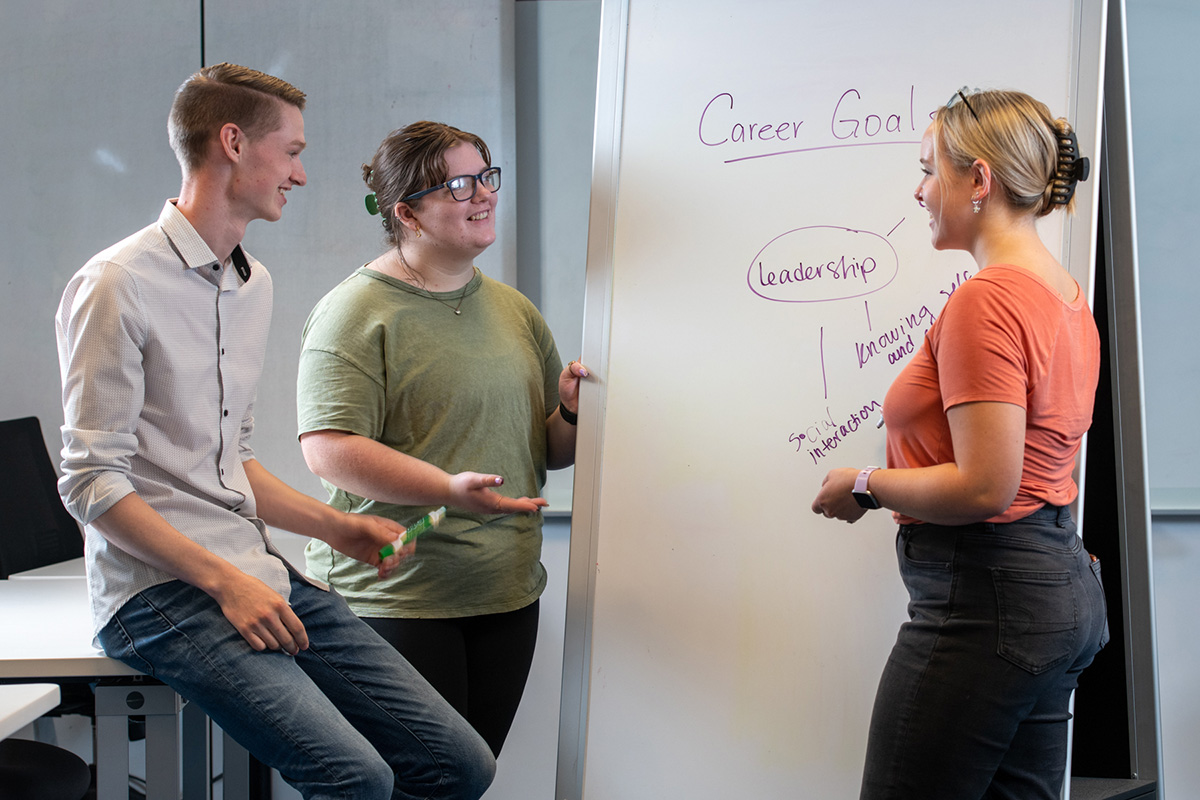 UNB celebrates Co-operative Education and Work Integrated Learning Month  
April 11, 2022
New centres of excellence offer students career experience in health and entrepreneurship
April 12, 2022
Centre of Excellence for Energy to provide students with hands-on learning, career-related experience
The Department of Education and Early Childhood Development is partnering with NB Power and the Gaia Project to launch the Centre of Excellence for Energy. The centre will give high school students the chance to learn from industry experts while gaining valuable skills.
"To build a world-class education system, our students need to be equipped with the tools for success," said Education and Early Childhood Development Minister Dominic Cardy. "I am so pleased that through this project, students will get to work with industry leaders and experts as part of an innovative and engaging learning environment."
The centre aims to capture the diversity of the energy sector and give students curriculum-connected experiences in many subject areas, including science, the environment, math, business, engineering, computer science and cybersecurity. Additional partners will have the opportunity to become involved as the implementation of the centre continues.
"NB Power is pleased to partner with the provincial government and provide its expertise to help students learn about the ever-changing world of energy, including climate change challenges and new technologies," said Keith Cronkhite, president and CEO. "Energy is an exciting field and we are thrilled to help our young students learn more about what opportunities exist in this sector in the years ahead."
The centre will be supported by education specialists, industry experts and other educators. Partners are sought for their ability to provide the school system with timely information, expertise and access to advanced learning opportunities.
"The Gaia Project is thrilled to be working with the Department of Education and Early Childhood Development and NB Power in creating the new Centre of Excellence for Energy," said Geoff MacDonald, acting executive director. "Cross-sector collaboration and community partnerships are key to solving climate change. As a leader in climate education, the Gaia Project will play a vital role in co-building project-based and experiential learning opportunities within the Centre of Excellence for Energy."
The department's anglophone sector supports a centre of excellence model to provide schools with new opportunities to support virtual and experiential learning. The model, which is unique to New Brunswick, connects students and teachers with expertise in post-secondary education, the business world, industry and the community, regardless of the location in the province.
"Through these collaborations with local partners, we are able to position students to be active, engaged citizens with the ability to develop creative solutions to help ensure New Brunswick's communities are sustainable for the long-term," said Cardy.
The department is actively pursuing the development of other centres in entrepreneurship, health and cybersecurity.
Funding models vary by centre, and opportunities exist for in-kind support from partners. Partners may support existing curriculum outcomes with emerging trends, real-world experience, and research from the field. Curriculum outcomes are not changed as a result of the partners' participation.
The centre of excellence model is part of the Future NB initiative, which aims to provide all students a chance to engage in experiential learning opportunities prior to graduation.