Experiential Learning
Experiential Learning activities are actively engaging students in concrete learning through the direct experience of observing, learning or performing work and learning tasks in the workplace during or outside of school hours, online, or in the community. Students can reflect personally, expand their areas of interest and explore various career options to increase their knowledge and develop the skills and attitudes that will enable them to contribute positively to their community. Through the NBTAP Program you will experience "learning by doing" or "hands-on learning". Many people learn best through active participation and reflection. Learning occurs outside of the classroom environment. It is a known fact that people learn best through active participation and reflection. 
Blended Learning
Blended learning is a technique that uses a combination of different teaching methods, to ensure that an apprentice gets a well-rounded education in all aspects of their trade. For those going into the pre-apprenticeship program, the learning meets many learning styles.
  Depending on the job, blended learning for can involve a mixture of:
in-house training
site-based learning
face-to-face seminars and tutorials as part of a vocational course or degree
online classes and/or resources such as webinars and interactive quizzes.
Pre-Apprentice
New Brunswick's Apprenticeship and Occupational Certification Act defines pre-apprentice as "a person who is a full-time or part-time student registered in an approved program of study from which the person is to receive training and instruction before being registered under this act as an apprentice in a designated occupation or a compulsory occupation.
Pre-Apprenticeship in New Brunswick
Pre-apprenticeship in New Brunswick is available to all high school students.  Students are provided information about skilled trades and technologies.  All students are eligible to enroll for trades courses at the high school level. They can participate in cooperative education student placements through a Co-op program at their schools. Students in the NBTAP Program can earn apprenticeable hours, while engaging in paid summer employment. The level of engagement between employers and students becomes greater as students follow their career pathway.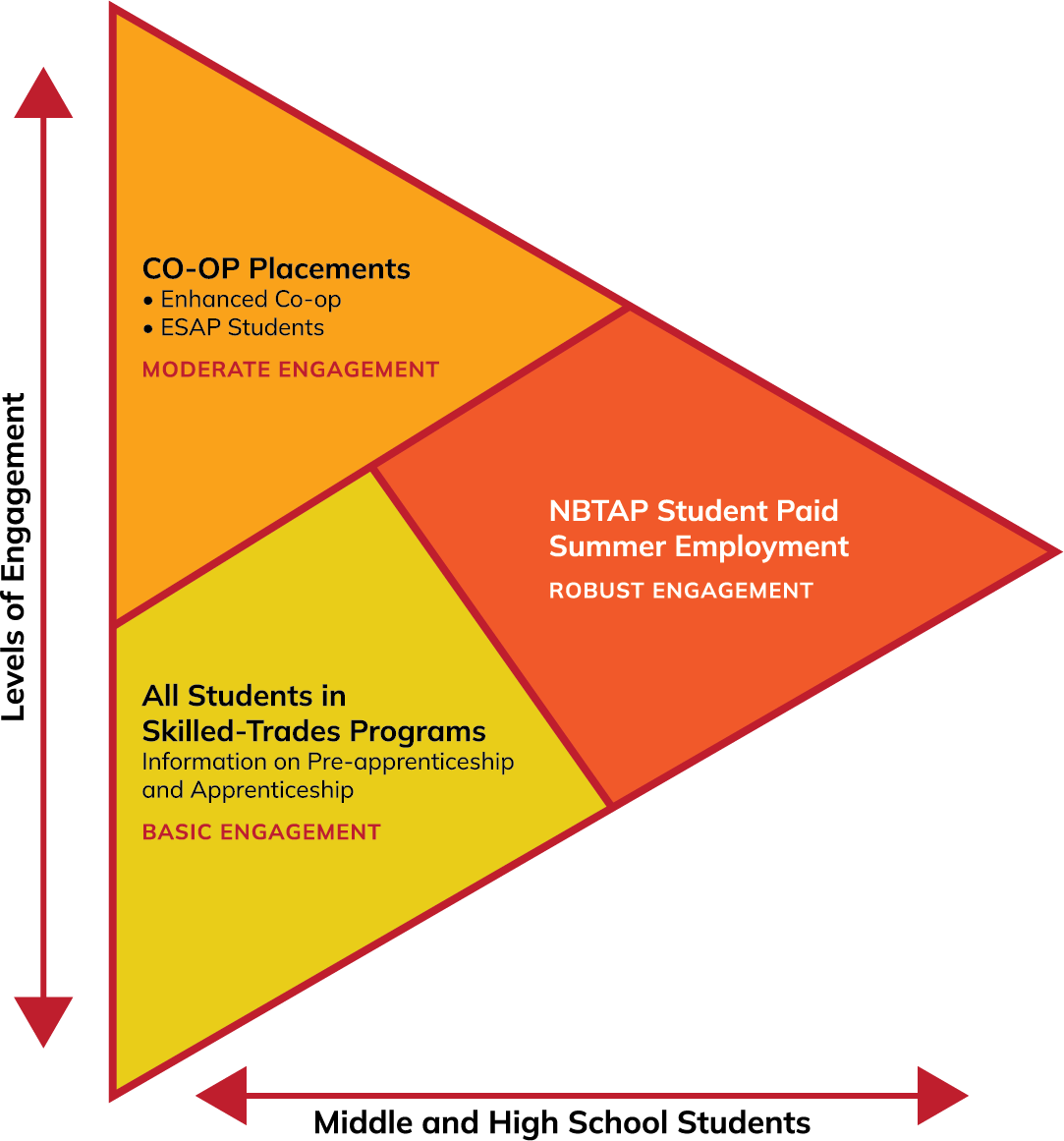 NBTAP Pre-Apprenticeship Program
Want to get a head start on a career, and earn while you learn?  Pre-Apprenticeship programs provide an opportunity for individuals to determine if they wish to pursue a career in a skilled trade field.  NBTAP is a series of summer work term initiatives that allow students to learn and explore skilled trades through mentorship.  You can learn from experienced workers, earn an income, and obtain apprenticeable hours towards a Registered Apprenticeship Program, even before finishing high school. 
Once you register for NBTAP, the information collected from your work term experience will be maintained by Apprenticeship New Brunswick and NBTAP.  Upon high school graduation and gaining employment in a skilled trade, you can then formally apply for the Registered Apprenticeship Program, transferring all prior learning experiences and hours towards your new career. 
Co-op Program
Cooperative Education (Co-op) Programs link classroom learning with unpaid employment experiences.  Work placements occur, directly related to the interests of a student. Through work terms, students "learn by doing". Students are employed for 6 to 10 weeks to fulfill academic requirements of their school program. To engage in a Co-op program, students must choose Co-op courses during course selection at their high school.
Apprenticeship
New Brunswick's Apprenticeship and Occupational Certification Act defines an apprentice to be "a person who enters into an apprenticeship agreement with an employer". An apprentice is a paid employee who works under the supervision of a certified journeyperson to learn the skills of their trade. An apprentice must be registered with the regional apprenticeship authority and fulfill all requirements established by their province or territory.  Apprentices often qualify for financial supports, including Employment Insurance, while in school. Currently, there are 53 apprenticeable occupations in New Brunswick.
Within New Brunswick, there is a high demand for skilled tradespeople.  With the projected shortage of skilled tradespeople, not only in New Brunswick, but within Canada.  You can obtain competencies and apprenticable hours towards your career, even before leaving high school, through pre-apprenticeship opportunities, including NBTAP. To learn more on these occupations – visit the Apprenticeship and Trades link through the Post-Secondary Education, Training and Labor website - Apprenticeship and Trades (gnb.ca)
Level (Block) Training
Academy Canada defines block training as "a period of in-school training with an established set of hours per block/level that every registered apprentice must attend if it is a requirement of their particular trade. Block/Level training is scheduled for the apprentice once an apprentice acquires a specific number of employment hours. An applicant registering as an apprentice after completing an entry-level program (pre-employment) will receive credit for block 1/level 1 and progress to the next block/level of training."  The mentor/instructor does not decide what is to be taught.  Curriculum is developed by industry experts.  For Red Seal Trades, a National Occupational Analysis is used. 
Educational Supports are in place for free to help with learning obstacles that you may need to overcome.  You earn while you learn. However, when attending courses or participating in examinations, you may qualify for Employment Insurance benefits. To determine this, visit the www.servicecanada.gc.ca website. 
To learn important information block training and apprenticeship – visit Technical Training (gnb.ca)
Skilled Trades
The skilled trades encompass a broad range of hands-on occupations in many key industry sectors.  The skilled trades represent a large number of professions in four different categories- Construction, Service, Manufacturing and Transportation. There are more than 300 skilled trades occupations recognized across Canada, though not all trades are designated in every province or territory. Contact Apprenticeship and Trades (gnb.ca) to learn more about apprenticeable trades in your province or territory. 
Red Seal
The Interprovincial Red Seal Program is a national standard of excellence.  It endorses certified workers to work anywhere in Canada where their occupation is designated.  There currently are 50 Red Seal Occupations in New Brunswick. It was established to ensure certified tradespeople were mobile across Canada. Red Seals are now recognized by employers as an indication that a journeyperson has met a common standard of knowledge and experience in their trade. It endorses the provincial/territorial certificate of qualification provided upon passing the Red Seal exam with a score of at least 70%.  Visit the website www.red-seal.ca for more information.
Compulsory Occupations
New Brunswick's Apprenticeship and Occupational Certification Act defines a compulsory trade as "an occupation that is prescribed by regulation to be a compulsory occupation".  A Compulsory occupation is a jurisdictional/provincial requirement. A compulsory trade is a trade that requires the person working to be registered as an apprentice or journeyperson to be able work in that area. A compulsory trade is specific to the regional/provincial apprenticeship and occupational certification authority and is not transferrable across the Canadian Provinces. A compulsory trade is not the same as a Red Seal designation, depending on the region a compulsory trade may or may not be Red Seal endorsed. Within the Province of New Brunswick, there are currently 12 compulsory occupations. To learn more on compulsory occupations – visit the Apprenticeship and Trades link through the Post-Secondary Education, Training and Labor website - Apprenticeship and Trades (gnb.ca)
Indentured Apprentice
An Indentured Apprentice is a worker who is serving a period of training under a licensed journeyperson, as part of an apprenticeship agreement. This agreement ensures the apprentice meets the standards for qualification in their field. 
Journeyperson
Statistics Canada defines a certified journeyperson as one who is "recognized as a qualified and skilled person in a trade and is entitled to the wages and benefits associated with that trade. A journeyperson is allowed to train and act as a mentor to a registered apprentice". A journeyperson has completed all training requirements to be certified and has passed a certification exam. Within the NBTAP program, mentors provide opportunities for students to complete required tasks as each level of the program. Your mentor will sign-off on competencies achieved.  Mentors play an important role in developing apprentice skill sets.
Apprenticeship Authorities
Each province and territory in Canada has its own regulatory system that administers apprenticeship training and occupational certification for the skilled trades. These authorities determine the educational requirements, program length, competencies, and processes for undertaking an apprenticeship in their region. Authorities uphold program standards, preside over examinations and issue Certificates of Qualification.
Logbook 
In New Brunswick the terms Logbook and Progress Report Book can be used interchangeably. The term Logbook is used for the trades that fall under the Atlantic Harmonization initiative. While the term Progress Report Book may still be used on the trades that remain solely under NB jurisdiction.
NBTAP program logbook
Participation in the NBTAP Program requires the use of and completion of a pre-apprenticeship logbook. Logbooks provide guidance and allow for a standardized method to record the learning outcomes as they are achieved. As students develop new skills their journeyperson mentor will sign off on competencies and hours achieved to provide a record of progress. A logbook is often provided by the apprenticeship authority when an apprentice is registered. While the logbook is traditionally paper-based, electronic versions may now be available. 
IMPORTANT – A part of the NBTAP Program, you will be required to complete the pre-apprenticeship progress record book. This book is your responsibility to provide and review with your mentor on your first day of employment. It is important to note that the accumulation of pre-apprenticeship hours will not be honored without a completed pre-apprenticeship progress record book.