On Wednesday, March 30th, 2022, 11 students from J.M.A. Armstrong High School spent the day at Moncton Flight College putting the theory they'd been learning in the classroom into practice. Students received a tour of the facilities, including an in-depth overview of the careers of Aircraft Maintenance Technology and Aircraft Maintenance Engineering. Students also spent time in the simulators, received an overview of Life in Flight from a Moncton Flight College instructor, and had the pleasure of listening to a presentation by a Transport Canada Pilot, who is a part of the National Aerial Surveillance Program.
The most exciting part of the day for students was when they got to fly in one of Moncton Flight College's four-seater planes, a Cessna 172. Students had the choice of flying over Hillsborough/Hopewell Rocks, or Salisbury, where they got to see their homes and school from above.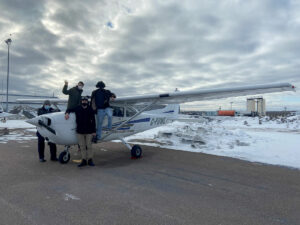 Private Pilot Ground School is offered as a full credit course for students at J.M.A. Armstrong High School. Students learn about topics required to successfully write the Private Pilot License Exam, such as airframes and engines, theory of flight, meteorology, air law, and more. The Transport Canada-approved course is taught by an experienced flight instructor from Moncton Flight College, Timothy Holt. The course came to fruition by local pilot, Jim Lockyer, suggesting the idea of an aviation course to his neighbour, Jill Tippett, a teacher at the high school.
Holt, who has been an instructor at Moncton Flight College for three years, said it was a thrill to take his students up in an aircraft. "In the air one of the students took the controls and they were flying," he said.
When grade 12 student Ryan McDermott was behind the controls of the simulator, he took off over Greater Moncton, successfully completing his landing on the first try. "It's different when you're just doing it on paper. You've got more time to think about it," said McDermott. "When you're in there, you're just on the spot – you have to know what to do." Holt said several students are showing interest in pursuing a career in the field after graduation. In fact, Ryan McDermott is one of them, looking into a career in air traffic control.
The industry is projected to grow and create demand for aviation jobs ranging from pilots to air traffic controls. "It doesn't just have to be an airline job, it could be a flight instructor job, it could be a bush job, it could be firefighting," said Holt. "It's fantastic. It's something that when I was in high school, I really wish I had the opportunity to do."
Anglophone East School District (Experiential Learning) was thrilled to work in partnership with Moncton Flight College and J.M.A. Armstrong High School to offer this opportunity to students.
CBC Links:
https://www.cbc.ca/news/canada/new-brunswick/students-aviation-moncton-flight-college-1.6404235