Community clinics offer pulmonary rehab and experiential learning
January 19, 2022
Outcome Campus Connect, Delivered in Partnership Between Orbis and Magnet, Provides the Digital Infrastructure for Future NB
February 10, 2022
UNB student returns to her roots through experiential learning
In the winter of 2021, Gabrielle Schenkels was exploring co-op work opportunity's as a part of her Bachelor of Business Administration degree at the University of New Brunswick (UNB). Gabrielle came across an interesting Student Social Media Coordinator opportunity with the New Brunswick Department of Agriculture, Aquaculture and Fisheries' (NB DAAF) Marketing and Trade – Food team. This role was of particular interest to her as it was in support of the department's newly launched Local Food & Beverages Strategy which aligned with her values and supported small local businesses, like her family's. Though at the time, Gabrielle was interest in a pursuing a different career path, she was raised on Schenkels Farms, a third-generation dairy farm operation with over 200 Holstein cows in Miramichi, New Brunswick. Impressed by her experience on her family farm and her beaming personality, NB DAAF's Marketing & Trade – Food branch welcomed Gabrielle onboard.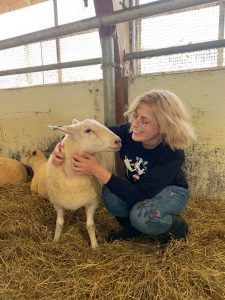 Gabby's co-op term was a part of the Future NB initiative which fosters collaborative relationships with education and business leaders to provide students with experiential learning opportunities. For Gabrielle, the experience was meant to provide valuable marketing experience, but to her surprise, she quickly began to get excited about the variety of business opportunities available in the farming industry.
"Using marketing strategies in food and agriculture is much different than any other business, especially when representing a public enterprise," says Gabrielle. "Working in the public sector, specifically interacting with small businesses, helped me form a much better picture of our local business ecosystem here in NB. Not only what barriers they face but how we can work together to support all different sectors."
As an ambitious co-op student, Gabrielle also welcomed the task of researching and compiling information on agricultural training projects for the department. She quickly realized that many opportunities existed that appealed to both her love for business and her family ties to the farm. Additionally, as a result of the pandemic, Gabrielle had begun working remotely from her grandparents' homestead. By day she worked on social media marketing for New Brunswick's food and beverage sector and in the wee hours of the morning and evenings, she managed 60-head of Holsteins! Not long after, she consulted with her career counselor at UNB and decided to enrol as a visiting student at Dalhousie Agricultural Campus for her final year of study! As a visiting student in the Agricultural Business program, Gabrielle is learning all about the future of farming while experiencing hands-on scientific education with practical work in the lab and field.
As she prepares to graduate with her BBA this spring, Gabrielle highly recommends students look for Future NB experiential learning opportunities, which might help ignite their passions, help them focus on an industry and get them excited about their futures, the same way it did for her.
Future Wabanaki | Avenir NB | Future NB's primary goal is to position New Brunswick as a place where all students and employers can access rich learning opportunities and new ways to collaborate, through experiential education
Students or employers interested in experiential learning opportunities are encouraged to reach out to Future Wabanaki | Avenir NB | Future NB at info@futurenewbrunswick.ca.